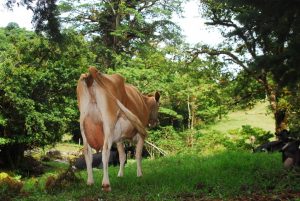 Finca Terra Viva is a proud member of Cooperativa de productores de leche Dos Pinos.
We milk our 60 cows twice a day and obtain an average of 1400 Kg daily.
Terra Viva is one of the few dairy farms in the whole country with the distinction of a BLUE FLAG, resulting from its good environmental practices and energy and water management.
Finca Terra Viva is a leading farm in the Monteverde area for its orientation for Carbon Neutrality.
We work in 3 major areas to reach this goal:
Feeding the cows with grass daily as well as rotating the herd daily so the soil gets richer and fixes carbon.
Using all the manure as organic fertilizer, and
Saving 65% of our land forest preservation as well as natural reforestation which increases the carbon fixation.
You can watch how we milk our cows and help us feed the babies!
Gallery